TRI to showcase AI-powered solutions at electronica 2020
Nuremberg, Germany Test Research, Inc. (TRI), the Leading Test and Inspection Systems provider for the Electronics Manufacturing Industry, will join electronica 2020 held at Messe München in Munich, Germany to showcase the latest innovation in SMT test and Inspection. Visit booth #A1-459 to see TRI's 3D SPI, 3D AOI, 3D AXI, Multi-Core ICT and AI-powered solutions in action.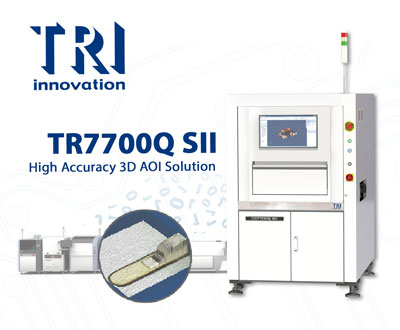 Uncover your production line defects with the TRI's Inspection solutions on display at electronica 2020. TRI will exhibit the Global Technology Award-winning TR7007QI series 3D SPI. Furthermore, presenting the multi-angle 3D AOI TR7500QE offering higher quality imaging for side view inspection.
TRI will also showcase the recently released 3D AOI TR7700Q SII and the 3D AXI TR7600F3D SII. The TR7700Q SII has an improved optical system that increases stability and increases speed up to 25%, compared to the last model. The TR7600F3D SII soars speeds as to twice to three times as fast as the previous model. Complete your SMT Inspection with the Multi-core ICT TR5001Q SII INLINE with LED analyzing capabilities.
Visit TRI's booth at electronica 2020 to experience Smart Factory Solutions such as YMS 4.0 and the AI Repair Station. Our experts will reveal the advantages of TRI's high-performance hardware design can bring to your production. TRI's systems are designed to interoperate with other manufacturing equipment to minimize downtime, optimize production quality, and reduce operator workload..