Sustainable manufacturing processes: Making energy visible to drive change
The 2021 UN Climate Change Conference (COP26) goals stated, "We can only rise to the challenges of the climate crisis by working together." Momentum is shifting. Putting sustainability at the center of business strategy is becoming the norm for business leaders. Reducing waste, emissions and energy consumption all play a part in achieving sustainable manufacturing operations.
Tracking energy consumption in manufacturing.
During 2021, Plexus Corp. completed the installation of energy sub-metering across all of our global manufacturing sites. Our goal in doing so was to measure the consumption of significant energy users, defined as a piece of equipment or system that accounts for 2% or more of a site's annual electricity bill. Manufacturing examples include compressors, chillers, vacuum pumps, HVAC systems or production equipment including SMT lines, ovens and test chambers. To better understand consumption rates, each site installed up to 6 smart metering boxes, each with the ability to monitor 48 circuits. All Energy consumption is tracked, with detailed real-time monitoring of over 6,000 circuits across our manufacturing sites.
Tracking is important, but it's only the first step toward developing sustainable manufacturing processes.
Plexus is establishing a multi-functional environmental team at each site, who are accountable for driving change as we work to lower our greenhouse gas (GHG) emissions within our manufacturing operations. Supported by Regional Energy Managers, their first task is to measure the site's overall carbon footprint. The goal is then to reduce electricity spend at their site by a minimum of 5% during our Fiscal 2022 by optimizing equipment and system usage and thereby reduce consumption. Throughout 2022, Regional Energy Managers will prioritize kaizen projects and increase site dialogue, with the ultimate goal of encouraging more team members to take an active role in reducing energy consumption in manufacturing. Each operator has the potential to make a positive impact. Whether suggesting large-scale improvement projects or simply making small incremental changes every day like not turning on a piece of equipment long before it's needed, working together will drive impactful change.
Kelso, Scotland team demonstrated how effective optimization can be.
Our Kelso site, located in the Scottish Borders, was first to have its energy sub-metering system installed, and are already demonstrating impressive results by fine tuning the sites' energy usage and adapting the systems to perform more sustainably. Based on the data provided by the sub-metering activities, the team mapped out in detail when and where the most energy was used. The team was then able to increase the efficiency of the site's heating, ventilation and air conditioning (HVAC) system by approximately 40%, without any impact on the working conditions of the factory floor – including temperature and humidity. Overall, they reduced the site's energy consumption by approximately 20% in the first year.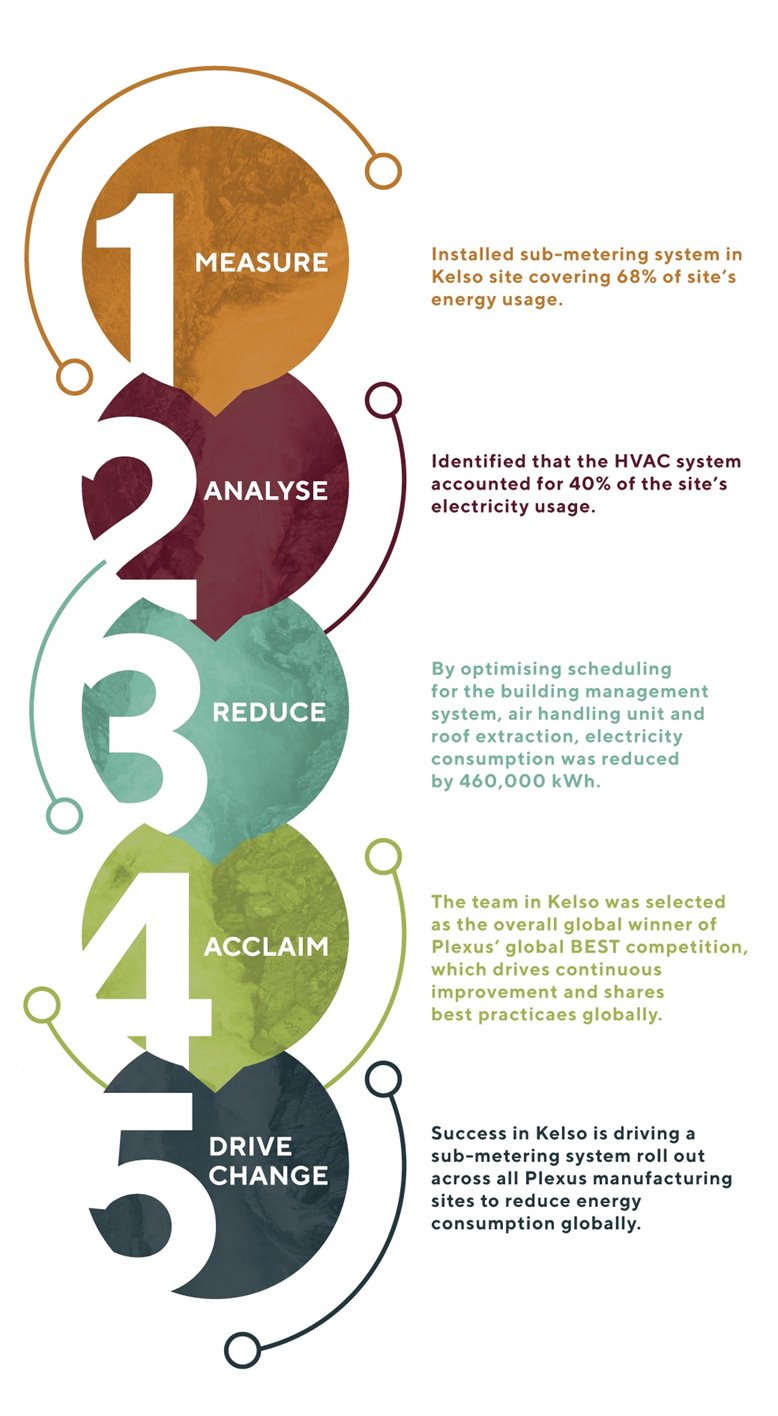 Thanks to their efforts, the Kelso team was recognized as winners of Plexus' global BEST (Bringing Employee Successes Together) competition in 2021, a program developed to drive continuous improvement and the sharing of best practices across our global sites. The prize money from this award of USD$12,000 was donated to Border Search & Rescue, who will put the funds into helping ensure people are able to enjoy the environment Plexus is working to protect. The global BEST competition has also introduced an "Environmental Sustainability" category for 2022, helping to drive positive change across our organization as we work to reduce energy and resource consumption.
Continuous improvement culture: What comes after optimization?
As demonstrated in Kelso, energy consumption reduction can be achieved through optimization alone. However, other tools are available for sites to use to reduce consumption and their overall carbon footprint. For example, replacing old equipment with new more energy efficient options, working with energy providers to increase the percentage of renewable energy used to supply each site or identifying new technologies that generate or save energy.
Combining and continuously monitoring these approaches will drive more sustainable manufacturing sites and reduce our overall GHG footprint.