Spartronics Attending NASA's Artemis Launch in Collaboration with Aerojet Rocketdyne
Spartronics is excited to announce that we have been personally invited by our customer, Aerojet Rocketdyne, to attend the first Artemis launch into deep space. The launch will take place on Monday, August 29, 2022, at 8:33 AM EST, at the Kennedy Space Center in Central Florida. While we're thrilled to have a team member present for such a historic moment, the launch can also be viewed online via NASA's YouTube channel.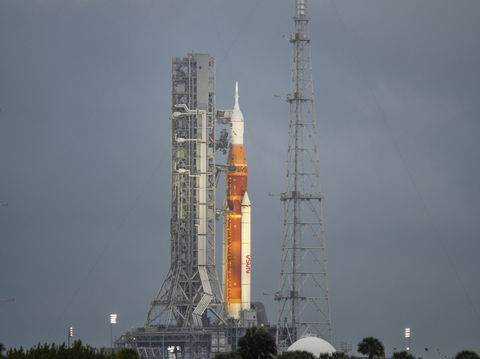 Artemis I & Looking Ahead
NASA's Artemis I mission into deep space is the first of a series of complex missions that will enable human space travel to the Moon and Mars. This first mission will be an uncrewed flight test of the Space Launch System and Orion Space Craft and is just the beginning of an exciting series to follow.
The missions will eventually bring the first woman and persons of color to the Moon to explore more of the lunar surface than before. NASA will also collaborate with commercial and international partners to build the Artemis Base Camp on the lunar surface and the Gateway in lunar orbit. These advancements will help establish the first long-term presence on the Moon and, most importantly, take a massive step in deep-space missions by sending astronauts to Mars.
The Orion Spacecraft
One of the driving forces in taking these astronauts into deep space is the Orion spacecraft. This will serve as the exploration vehicle that will take the crew into deep space, provide emergency abort capability, sustain the crew during the space travel, and provide safe re-entry from deep space return velocities. Orion is also NASA's newest spacecraft, explicitly built to transport humans farther than ever before. The Artemis I mission will test an unmanned Orion and travel 40,000 miles past the Moon.
So, where does Spartronics fit into the equation? Let us dive in. Spartronics Logan has had a longstanding collaboration with Aerojet Rocketdyne, and through this collaboration, we were given the opportunity to be a part of this mission. Led by Program Manager Jeff Kooyman, the team worked closely with Aerojet Rocketdyne to build a component of the Crew Module (CM) which will help Orion travel into deep space and back to Earth. The project itself took over three years to accomplish, but the fruits of this labor are surely one the team is extremely proud of.
The team is honored to be a part of such a historical mission and looks forward to attending the launch. Stay tuned to part two of our deep space series to learn more about the Spartronics and Aerojet Rocketdyne collaboration that has brought us to this moment.
For additional information regarding Spartronics Space experience, please visit https://www.spartronics.com/markets/space.