ON Semiconductor Launches New Power Modules That Deliver High Efficiency, Space Saving Solutions for Solar and Industrial Power Applications  
New Power Integrated Modules to be demonstrated at electronica along with the latest Intelligent Power Modules, MOSFETs, IGBTs and integrated motor drivers for power conversion and motor control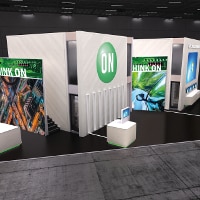 electronica – MUNICH, Germany – ON Semiconductor, driving energy efficient innovations, has launched new Power Modules that offer excellent energy efficiency, reliability and performance in highly integrated and compact packaging, adding to the company's already robust portfolio of power semiconductor devices.
Traditionally, power stages in applications such as solar power inverters, UPS inverter stages and industrial variable frequency drives (VFD) have been built from discrete IGBTs / MOSFETs with dedicated drivers and additional discrete components. ON Semiconductor's new NXH160T120L2Q1SG and NXH160T120L2Q2F2SG Power Integrated Modules (PIMs) dramatically ease the designer's challenge by providing compact, highly integrated solutions in easily mountable packages that save space and reduce costs.
The devices, available in Q1 & Q2 packages targeted for 30KW & 50KW inverters, integrate field stop trench IGBTs and fast recovery diodes that provide lower conduction and switching losses and enable designers to trade off between low VCE(SAT) and low EON / EOFF losses to fully optimize circuit performance. The direct bond copper (DBC) substrate permits high current operation with minimal effects from parasitic inductance, allowing designers to achieve high switching speeds as well as delivering 3000 Vrms of isolation with a 12.7mm creepage distance.
In addition, the company has announced the new FDMF3170, a fully optimized, ultra-compact Smart Power Stage (SPS) multi-chip module for DC-DC buck converter applications in servers, data centers, artificial intelligence accelerators and telecommunications equipment. It integrates two high performance power MOSFETs based on ON Semiconductor's PowerTrench® technology, and a smart driver featuring a high precision current sensor for maximum processor performance.
Power conversion and motor control technology demonstrations at electronica
Both of the new Power Modules will be demonstrated at ON Semiconductor's booth during electronica, underlining how energy efficient semiconductor-based solutions are critical to developing successful designs in Power Conversion and Motor Control (PCMC). In-booth demonstrations will highlight how ON Semiconductor's solutions have created a leadership position in industrial power, solar energy and motor drivers and will include both a robotics showcase and a solar and battery storage setup.
ON Semiconductor offers a broad portfolio of power semiconductor devices housed in innovative packaging formats, supporting a global move towards cleaner, highly reliable and cost-effective energy designs. The portfolio includes devices based on advanced Wide Band Gap (WBG) materials and encompasses MOSFETs, IGBTs, PIMs, and IPMs as well as fully integrated drivers for all motor types. Together, these devices significantly enhance the highly efficient, reliable, compact and low cost power solutions that modern applications require, continuing to advance the energy revolution.