Malaise in Germany helps drive Czech manufacturing downturn, says IHS Markit
Export-led slowdown in German manufacturing leads to deterioration in Czech goods-producing sector operating conditions
Confidence tumbles to lowest since December 2012
New export orders fall at fastest pace since May 2009
Ongoing problems across the automotive sector and a recession in German manufacturing have had a negative effect on the health of the Czech economy. Operating conditions across the goods-producing sector deteriorated at the quickest pace since the height of the financial crisis in mid-2009 in July according to IHS Markit PMI survey data, with lacklustre foreign client demand largely to blame. The close ties between the Czech and German manufacturing sectors have often been a boon, with supply-chain growth helping drive overall economic expansion. Nonetheless, recent developments in the automotive sector and a drop in demand for capital goods have dented production volumes and output expectations.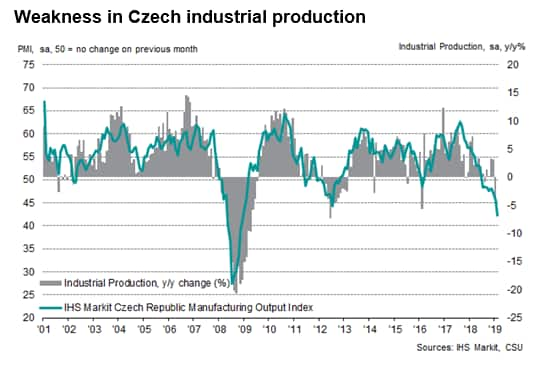 European autos sector in the doldrums
Following a dip in performance after the introduction of new and tougher emissions regulations towards the end of 2018, the automotive sector has struggled to regain momentum. A key factor behind this has been a slowdown in demand across China, which has spread to automotive manufacturing hubs across the world, including Germany.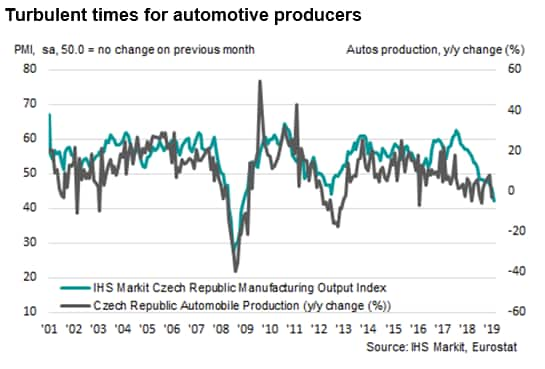 According to IHS Markit forecasts, light-vehicle sales in China are expected to drop by 4.8% in 2019 if conditions remain as they are now. That said, if the US-China trade war broadens its reach or if the domestic economy in China does not recover as quickly as expected, passenger vehicle sales could fall by as much as 7.5% year-on-year. Neither scenario is encouraging for autos producers who are faced with ever-changing, difficult external demand conditions.
As has been signalled in recent PMI data for the eurozone, Germany and the Czech Republic, demand for capital goods throughout the supply chain has eased notably since the start of 2019. Automotive and auto parts producers are the largest exporters across the Czech economy, with around 30% of total exports going to Germany alone. Therefore, it is no surprise that a drop in demand for German produced goods will hit those further down the supply chain hard. In fact, Czech industrial production contracted by 3.8% (in year-on-year and working-day adjusted terms) in June.
Muted expectations
In line with the trend through 2019, expectations among manufacturers regarding output over the coming 12 months remained subdued in July. Furthermore, the degree of confidence dropped to its lowest since December 2012. Although firms still predict a rise in production over the next year, an ever-greater number of panellists have expressed reservations and concerns towards client demand and lower sales from abroad. Some firms also noted that they expect the cost-cutting measures recently put in place among manufacturers will soon spread to the service sector which, to date, has supported overall growth, counteracting the manufacturing downturn in recent months.
Another factor behind reduced optimism has been a lower incentive and fewer opportunities to invest in new machinery and capacity expansion. Tight labour market conditions and increasing wages have placed a restriction on capital spending budgets.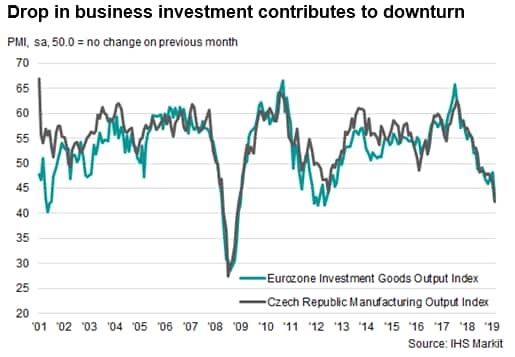 External demand to weigh on sector further
Going into the second half of 2019, PMI data has indicated that uncertainty and headwinds stemming from difficult external demand conditions could continue to restrict opportunities for growth across the manufacturing sector. The movement towards electric vehicles could be an opportunity for manufacturers to boost sales and diversify, however.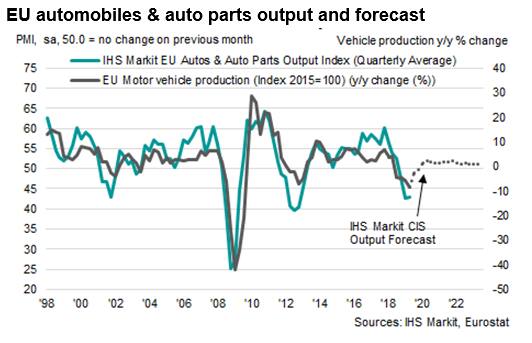 IHS Markit currently expects GDP growth of 2.5% in 2019, although short-term external demand uncertainties are seen as strong downside risks to the forecast. In contrast, a tight labour market is expected to support consumer spending, with service-based sectors being seen to drive economic growth in the second half of the year.