Authorized Distributor Mouser Electronics Spotlights Latest from Bourns in Circuit Protection, Transformers and More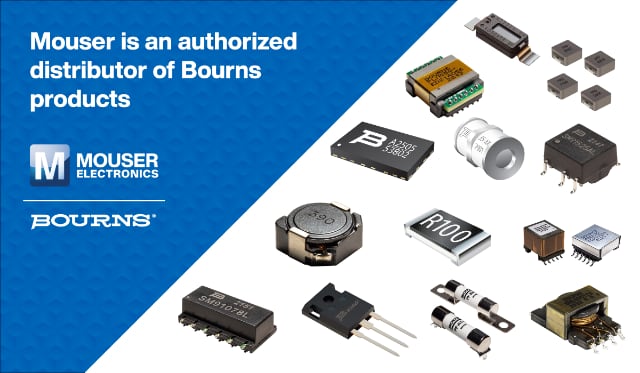 Mouser Electronics, Inc. is shipping the latest innovations from Bourns®, a leading manufacturer of automotive sensors, circuit protection solutions, microelectronic modules, precision potentiometers and resistive products. Offering world-class solutions in virtually all industries, Mouser continues to expand its customers' product development process by stocking more than 20,000 parts from Bourns. Additionally, Mouser.com hosts a growing collection of Bourns eBooks, resources and other technical content.
Bourns PLN planar transformers are forward converter transformers designed for 48 W to 70 W Power over Ethernet (PoE) industrial applications, that require a low profile with a high power density, like battery management systems (BMS). Bourns PLN planar transformers, available from Mouser, operate at a switching frequency of 250 kHz and voltages from 5 V to 12 V with an output current from 4 A to 14 A, making them perfect for both power management and LED lighting applications.
For high voltage applications, Bourns Model BID insulated gate bipolar transistors (IGBTs), combine technology from a MOSFET gate and a bipolar transistor for high voltage/high current applications like switch-mode power supplies (SMPS), uninterruptible power sources (UPS) and power-factor correction (PFC). The Model BID IGBTs are thermally efficient, utilizing advanced trench-gate field-stop technology to provide greater control of dynamic characteristics, resulting in lowered collector-emitter saturation voltage and fewer switching losses.
The Bourns MF-ASML/X low-resistance PPTC resettable fuses, also available from Mouser, utilize a proprietary freeXpansion™ design to increase performance with higher hold currents, higher voltages, and improved resistance stability in a small (0402) footprint. Designed to protect against both overcurrent and overtemperature events within space-constrained mobile applications, such as battery charging and USB port protection, the Bourns MF-ASML/X PPTC resettable fuses offer plug and play protection for PC motherboards as well.
For high temperature environments, Bourns MF-FSHT PTC resettable fuses offer a 12 V voltage rating, up to 40 A input current rating, and a low profile (0603) design. MFFSHT fuses feature surface mount packaging for automated assembly, a maximum operating temperature rating of +125°C, and low thermal derating factor. The Bourns freeXpansion design increases fuse performance, making them ideal for industrial and other demanding applications required to operate at elevated temperatures.
Partnering with Bourns since 2007, Mouser has received multiple top performance awards in recent years from Bourns, including e-Commerce Distributor of the Year award for 2022, 2021, 2019, 2018, 2015, 2014 and 2012, as well as 2016 Distributor of the Year (Catalog Partner) in EMEA, 2012 European Distributor of the Year POS Growth Award, and the 2012 Asia Distributor of the Year POS Growth Award.
To learn more about the wide selection of Bourns products available from Mouser Electronics, visit
https://www.mouser.com/manufacturer/bourns/.
To review the selection of Bourns eBooks, visit https://www.mouser.com/manufacturer/bourns/ebooks/.
For more Mouser news, visit https://www.mouser.com/newsroom/.