Women in Electronics Celebrates National Mentoring Month
January is National Mentoring Month, a time dedicated to recognizing mentoring and the impact it has on people's lives, to celebrate the power of mentoring, and to encourage others to explore how mentoring programs enable organizations to create more productive, engaged, and satisfied employees. As you begin the new year, please consider the benefits of being a mentor and/or mentee in your organization.
In a recent article, WE Founding Director and Vice President, Monica Highfill, addressed the topic of mentorship and why it should be a fundamental part of every organization's business strategy. Study after study report favorable results for organizations that implement formal mentorship programs. In fact, nearly three quarters of all Fortune 500 companies offer their employees formal mentoring programs because investing in leadership capability pays off in performance, productivity and innovation.
Did you know that 87% of mentors and mentees feel empowered by their mentoring relationships and have developed greater confidence? (Moving Ahead research, Turning the gender diversity dial)
With the current WE mentorship cohort ending in February, Women in Electronics looks forward to sharing comments and feedback from both mentors and mentees over the coming month. Opened to all members through an application process, WE encourage those interested in participating in the next cohort this spring to fill out an application on the mentorship page. Women in Electronics is encouraging both men and women leaders in the industry to participate. Non WE members can also participate as a mentor by submitting an application as well!
WATCH MENTOR VIDEO: Bill Bradford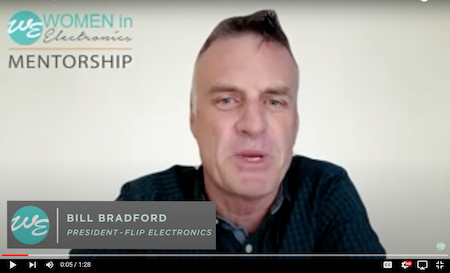 WATCH MENTEE VIDEO: Maria Gillespie