What Are 2023 Skilled Labor Costs for Manufacturing in Mexico?
For the past few years, U.S. manufacturers have been more actively focused on hiring and retaining enough qualified workers to meet production demand. However, with increasing competition for job placement with other sectors like technology, healthcare, and financial services, it's been a challenge to find skilled labor.
In addition, a generation of industrial workers are facing retirement, which means fewer people in manufacturing roles and fewer people ready to fulfill open positions. As a result, U.S. manufacturers are looking for solutions to meet their production needs and have their sights set on Mexico as the answer to their labor problems.

Labor Rates in Mexico
Mexico maintains a younger population of workers interested in the manufacturing industry with large industrial hubs established throughout the country. Therefore, workforce availability is expected to remain stable, though business leaders should prepare for rising costs due to inflation.
However, when calculating operational costs, labor rates in Mexico will remain cost-competitive compared to wage expenses in the U.S. Currently, for a semi-skilled operator, Mexico labor costs equal $5.30 USD (fully burdened including state and federal taxes, plus competitive market benefits) per hour for a 48-hour work week compared to $23 USD per hour for a 40-hour work week in the U.S. When calculating the cost savings on an annual basis, a company with a headcount of 100 people saves $3,461,120.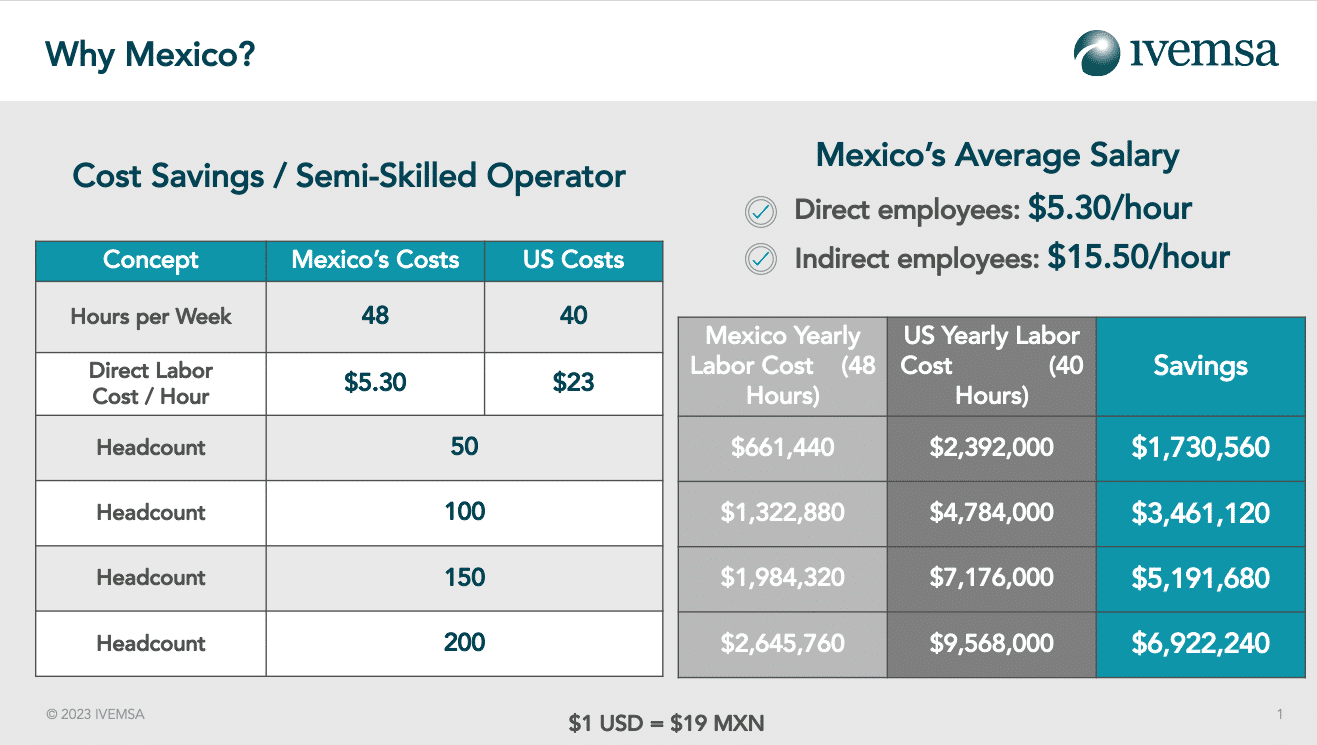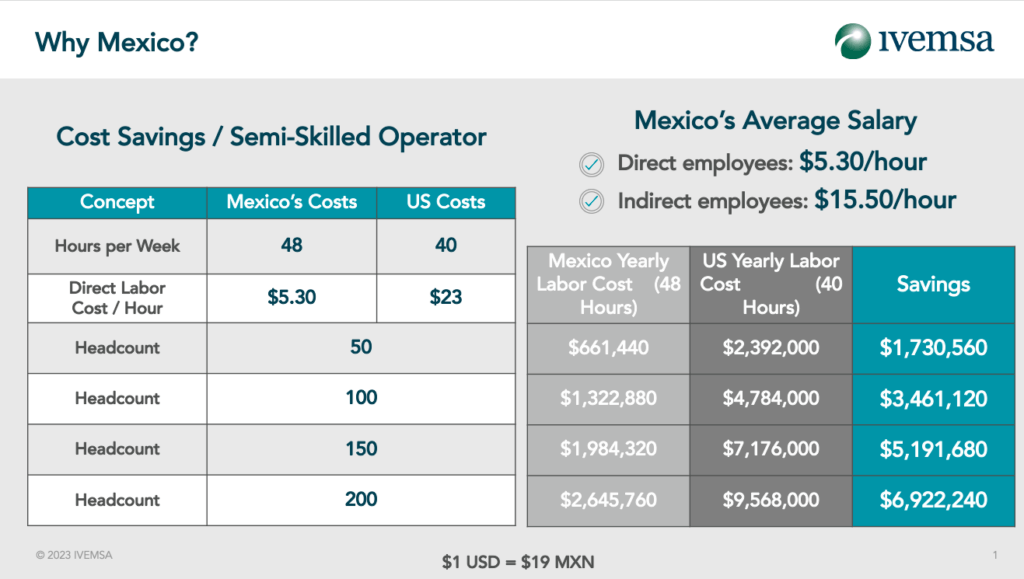 Benefits Expectations
As in the U.S., workers in Mexico also expect competitive benefits as part of a full compensation package. In Mexico, there are both mandatory and voluntary benefits companies must consider in order to stay competitive when recruiting and retaining employees.
Mandatory benefits are similar to the U.S. and include retirement programs, social security, vacation time, and paid holidays. Though Mexico also requires a Christmas bonus known as "aguinaldo" equal to 15 days' worth of annual pay (or the equivalent percentage for employees with less than a year with the company). Additionally, voluntary benefits include healthcare coverage, paid meals, and bonuses.
Though these are not part of the required employee benefits, they are an incentive when workers are considering where to apply. With such a high volume of skilled workers, the labor pool is competitive. When companies do not have a robust compensation and benefits plan in place, they often face greater hiring challenges which ultimately hinder production goals.
Read more: What manufacturers can expect in 2023.
Severance Considerations
Another factor to consider when calculating the full scope of Mexico labor costs is severance pay. Mexico is extremely different from the U.S. with regard to labor laws. Labor laws outline contractual obligations and conditions when terminating a full-time employee. Without documented justification, the worker may be eligible to receive severance pay equaling three months' worth of wages, in addition to 20 days' worth of wages for every year the employee worked.
This can become quite complicated if manufacturers aren't aware of the proper channels to go through when dismissing workers and don't have the correct documentation in place. Therefore, it's important to have a strong shelter services provider in place to avoid costly mistakes by implementing the best strategy when letting go of a problematic employee. Since the shelter provider will coordinate the HR department on your behalf, their job will be to help you understand and navigate Mexico's labor law.