Understanding Component and Parts Shortages (and How to Survive Them)
By Graham Scott, Vice President of Global Procurement, Jabil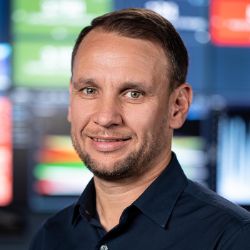 Managing 700,000+ parts across more than 27,000 suppliers at any given time provides us with unique insight into key commodity trends, strategies and component and parts shortages. Therefore, as you might imagine, the past few years in global procurement have been unlike any others.
Before the pandemic, companies managing electronic components already struggled with successive waves of part shortages, price hikes and lengthening lead times. A major surge in demand on one side and a critical materials and parts shortage on the other strained capabilities to meet demand, especially for more standard passive components, such as memory, multilayer ceramic capacitors (MLCC), transistors, diodes and even resistors.
However, original equipment manufacturers (OEMs) began executing new multi-source strategies in order to reduce supply risk and relieve these shortages. By the beginning of 2020, the passive components market was relatively balanced.
Needless to say, that didn't last long.
COVID-19 Set the Tone for Decreased Production and Supplier Shortages
When the COVID-19 pandemic hit, market capacity shrunk significantly. The pandemic's epicenter — Wuhan, China — is home to a smattering of electronic and mechanical suppliers. The area went on lockdown, and factories could not produce at full capacity or at all. There was not enough supply to meet demand, but the greater impact was felt as the virus spread throughout China.
As the coronavirus spread around the world, so did the components shortages. Factories in Malaysia, the Philippines and Indonesia couldn't produce or ship parts. As a result, OEMs worldwide could not manufacture their own products either.
Ultimately, it did not matter where the supplier was or where the end product was produced; entire supply chains were clogged by the pandemic, and all the inventory and flexibility had been sucked out of the market. The lead time for high-end semiconductors, which is usually long, doubled from 18 weeks to 36 weeks.
When components suppliers were able to manufacture, many shifted their operations to prioritize parts for the healthcare industry. At the start of the pandemic, there was a worldwide shortage of ventilators as well as rising needs for X-ray machines, diagnostic tools and other medical devices that use electronic components. Appropriately, suppliers contributed their capacity to lifesaving efforts.
Once manufacturing began shifting back to its pre-pandemic operations, however, the pandemic-era problems persisted.
COVID-19 Drives Continuing Component and Part Shortages
The pandemic continues to be a disrupting factor throughout all elements of the supply chain, including in the components market. The growth of technologies like 5G, artificial intelligence and cloud computing continue to enable and drive demand in consumer electronics, automotive, healthcare devices, and industrial and energy products — among others.
At the same time, virus outbreaks are still affecting many of the companies producing semiconductors and those that are part of the semiconductor ecosystem as well as many other key components. Government regulations mandating temporary shutdowns or reduced workforces create even more labor shortages, tightening component and part supply even further.
Prices and lead times for these important commodities continue to increase; most parts are now being quoted at lead times longer than 19 weeks, vastly reducing flexibility in every component market.
Semiconductors remain the commodity with the most severe gaps, with devices like microcontrollers and analog semiconductors the most impacted. While the component has gone through cycles of high demand before, the V-shaped recovery seen during the pandemic has thrown supply and demand out of balance like never before. Driven by remote work, data hyperscalers and the relentless demand for memory in connected devices, the semiconductor market is expected to hit $500 billion for the first time in history in 2021. Visibility is being requested for these parts all the way into 2023.
Sourcing challenges are only growing for semiconductor components. Substrate and lead frame shortages persist, while wafer starts are expected to be limited well into 2022. Accordingly, foundries and manufacturers have raised prices between 5% and 200% depending on the technology. Regular price increases and order delays have become commonplace in related commodities like PCBs and passive components, including ceramic capacitors. Backlogs for ceramic capacitors are now stretching to between four and five months, the longest we've seen since 2018. Tight supply and pricing increases for all of these components are expected to last into 2022.
Drilling down even further, so to speak, pricing will also continue to be dynamic in the raw materials market that feeds the components market. The pandemic disrupted operations at hundreds of mines worldwide, creating a shortage of critical gold and silver. The prices of metals like copper, gold and palladium are highly reactive to labor shortages caused by COVID-19 and are trending upward, so look for uncertainty to continue.
While every industry is affected by these component and part shortages in some way, let's take a closer look at some of the segments most directly influencing this market — automotive, smartphone and 5G/Internet of Things (IoT).
How the Automotive Industry Influences the Electronic Components Market 
The automotive industry has been experiencing a rapid transformation, with products incorporating automotive electronic components at an unprecedented rate. Although we may be a few more years away from fully autonomous vehicles, cars are evolving to become even more sophisticated, with embedded software, sensors, artificial intelligence, connectivity and yes, electrification.
Think of today's standard combustion engine car, which has somewhere between 2,000 and 3,000 capacitors. As consumer demand and government mandates drive the market share of electric vehicles, this creates an overwhelming growth in content, with as many as 22,000 MLCCs required in a single car. This number will continue to grow as more functions become electrified.
Automotive electronic components sell at higher price points because of the additional requirements related to warranties and liability. Demand from the automotive sector is growing, making the automotive market a high priority for component suppliers. As of May 2021, J.D. Power and LMC Automotive reported a record sales month, with a 34% increase in new vehicles sales over May 2020 and a 10.6% increase over May 2019.
Still, it's not enough. For auto makers, worsening chip shortage is preventing supply from keeping up with demand. By September 2021, U.S. sales were down almost 25% over September 2020 and 12.8% over 2019. For perspective, new car buyers bought 35% of the available new car inventory in September 2019. In September 2021, they bought almost 96% of the available inventory. By one estimate, semiconductor shortages are expected to cost the automotive industry $450 billion in sales through the end of 2022 as major automakers cut down their goals and even halt production due to a lack of components.
Smartphone Miniaturization Leads to Component Shortages
Like the automotive industry, the smartphone industry is constantly on the move. As consumers expect the release of a greater model each year, leading smartphone launches have become anticipated events. For passive components and memory products, smartphones represent a significant part of overall consumption.
The math is simple but insightful. There are approximately 1.5 billion smartphones manufactured per year, and each flagship model contains roughly 1,000 capacitors. This means that smartphone manufacturers use about half of the roughly 3 trillion MLCCs produced globally each year — making the smartphone market the primary driver of consumption and technology.
However, demand from this segment had been decreasing pre-pandemic. Then, COVID-19 drove the global smartphone market into its worst decline ever, according to Gartner. Global shelter-in-place guidelines combined with economic uncertainty resulted in a 20.2% decrease in smartphone sales. Similarly, smartphone manufacturers had to stop or slow down operations because of temporary closures early in the pandemic.
Despite component shortages and virus-induced factory shutdowns, smartphone sales have reversed. Global sales grew 10.8% in Q2 2021 over the same time in 2020, according to Gartner. One main growth driver was strong demand for 5G smartphones, which began rolling out in late 2020.
Telecommunications companies are in the midst of deploying 5G worldwide, but what remains to be seen is how semiconductor shortages will impact that process. In the summer of 2021, multiple companies and industry groups reported to the FCC that shortages will have "cascading effects" on 5G deployment, from radio and base station production to smartphone and laptop production. The enduring work from home trend and a general need to connect to the internet anywhere, anytime, could help influence the direction of limited semiconductor supplies to support 5G and broadband buildout.
How Does the IoT Boom Affect Electronic Component and Parts Shortages? 
According to research by Ericsson, an estimated 26 billion IoT devices will be in use by 2026, almost a quarter of which will require cellular connectivity. A 2020 study by the research firm Parks Associates found that U.S. households with broadband are expected to have an average of 20 IoT devices by 2025. According to Verified Market Research, the IoT market is expected to grow from $826 million in 2019 to $3.28 billion by 2027.
Two major drivers of this are increased use of smart payment technologies to minimize the human contact involved in transactions as well as increased connectivity demands for smart devices as more people work from home. Furthermore, as COVID-19 continues to dominate the healthcare sector, there is more demand for IoT devices for remote patient monitoring (like wearables), inpatient monitoring and interactive medicine.
These innovations unlock new business opportunities and models for OEMs worldwide, but they also create additional demand on an already constrained market.
Where Are Electronic Component and Parts Shortages Headed? 
As technology keeps developing, there is plenty of demand for more passive components and semiconductors. At the same time, suppliers will likely focus on newer types of parts that are in higher demand. This leaves a high-risk environment for mature, less-profitable product families. Suppliers that continue to manufacture components for legacy products will only produce parts at profitable levels, leading to price increases for the wider customer base.
At this point, growing backlogs and the uncertainty of COVID-19's future are driving our current challenges. As we've seen throughout 2020 and 2021, the virus is unpredictable and can dictate whether a factory is open or closed, if a product is made or not. It's unclear how many more waves are ahead of us or what their impacts will be.
It's also hard to know when supply will recover to meet demand, though more leaders throughout the supply chain are expressing confidence it will take quite a bit of time — at least late 2022, if not into 2023. The current disruptions and the uncertainty of what's to come amplify the need for supply chain orchestration, or a supply chain strategy following a singular cohesive direction. This goes for all areas of your business, from design and pre-production all the way to end-of-life management and product delivery. If you miss out on any of these areas, you run the risk of having a disrupted product.
In an Electronic Component or Parts Shortage, Relationships are Key 
When supply is short of meeting demand, a component supplier may allocate a percentage of its output to key customers. This means that each customer may only get a percentage of the demand they have for a specific part, which results in their own production disruptions and has massive ramifications down the supply chain. The allocation process is tough on all components buyers and requires constant contact with the suppliers to ensure receipt of needed components. This strategy is being widely used during our current supply crisis to get at least some product out to more of a supplier's customers.
During shortages, suppliers determine who to support — not the other way around. We can't emphasize the importance of supplier relationship management enough. Whether you are doing the work yourself or outsourcing to a manufacturing solutions provider like Jabil, strong supplier relationships are essential to surviving component shortages. But let me clarify: These strong relationships don't begin during supply shortages. They must be established during a buyer's market with a mindset of "win/win" that needs to be demonstrated over a prolonged period of time.
To build your relationships, take time to meet with your suppliers, whether virtually or in person, when safe to do so. These meetings should not be escalations or opportunities to have conversations about expediting orders. Instead, you want to establish a strong relationship with your supplier and stay top-of-mind. Learn about their operations and supply chains, their successes and their struggles. See where you can expand your collaboration and where you can help to build trust, credibility and predictability at the executive level.
For example, at the start of the pandemic, Jabil helped its suppliers acquire masks and prove their essential business standing as part of the healthcare supply chain so that they could safely and legally continue operations. Suppliers were appreciative of these gestures to help them keep their operations running safely.
Jabil also worked to keep the lines of communication open with its suppliers. We asked our suppliers about their situations to see how we could help. Sometimes this involved approving an alternate part or an alternative facility. Jabil team members also issued frequent updates about our own operations and shared tips about how we were managing new challenges. This sometimes inspired our suppliers to put similar safety protocols in place. As a multinational company, Jabil tends to have more resources than its suppliers, so this type of information gives small companies insights into best practices and new ideas.
In turn, our strong relationships with our suppliers, particularly with their executives, helps us to learn more about their operations and challenges-both now and during non-pandemic times. Many suppliers will not disclose details about their supply chains or material flow. However, our relationships with executives as their trusted partner have given us access to more information. It also helps that we understand their supply chains and ask lead-in questions to help us find the information we need. At the end of the day, investments in your supplier relationships can be your greatest tool.
Surviving a Component Supply Shortage as an OEM 
The past two years have shown OEMs that they must have the tools to truly be prepared for anything. The component shortage was easing earlier in 2020 but was exacerbated by the start of the pandemic. While we have yet to make our way through this current disruption, it's important to remember that future waves of the COVID-19 pandemic, natural disasters, geopolitical events or any other crisis could strike at any time, diminishing market capacity for raw materials and components. The next disruption is right around the corner.
The decisions you make right now will affect your longevity. These types of supply shortages separate the good from the bad, and there are companies that will struggle to meet their production goals if they are not taking today's market seriously and responding to the component and technology evolution.
Although there are no silver bullets to success, there are several steps companies can take to stay ahead of the market:
Ensure design teams stay in touch with suppliers, technology roadmaps and capital investment plans, and evolve product design accordingly.
Add new alternative suppliers, and regularly review new suppliers for common products.
Consider a supplier's global footprint to mitigate disruptions that may arise in one specific region.
Increase collaboration and visibility among product design, procurement and supply chain organizations to provide suppliers with the lead time they desire.
Move away from single-sourced parts.
This last tip is critical. As basic as it sounds, having multiple sources per part is no longer just a nice-to-have; it is a requirement. In today's market, with options becoming limited, having the ability to rapidly select alternative qualified suppliers and keep your products on schedule is even more critical. To get clear visibility into available parts, source new commodities, and access advanced analytics, a digital procurement intelligence platform can give OEMs access to billions of data points and be a key tool in building a next-gen supply chain.
No matter what the future holds for component supply, it's important to have a robust supply chain strategy, complete with sourcing plans and strong supplier relationships, in order to protect your own operations. And if good times are around the corner, it still is prudent to plan ahead for the next component or parts shortage and big disruption.
Related Posts
March 24, 2020