Indium Corporation's Sandy-Smith Earns IPC Distinguished Committee Service Awards at APEX 2018
Indium Corporation's Brook Sandy-Smith, Technical Support Engineer for PCB Assembly Materials, was recognized with two Distinguished Committee Service Awards from IPC at the IPC APEX Expo on Wednesday, Feb. 28 in San Diego, Calif.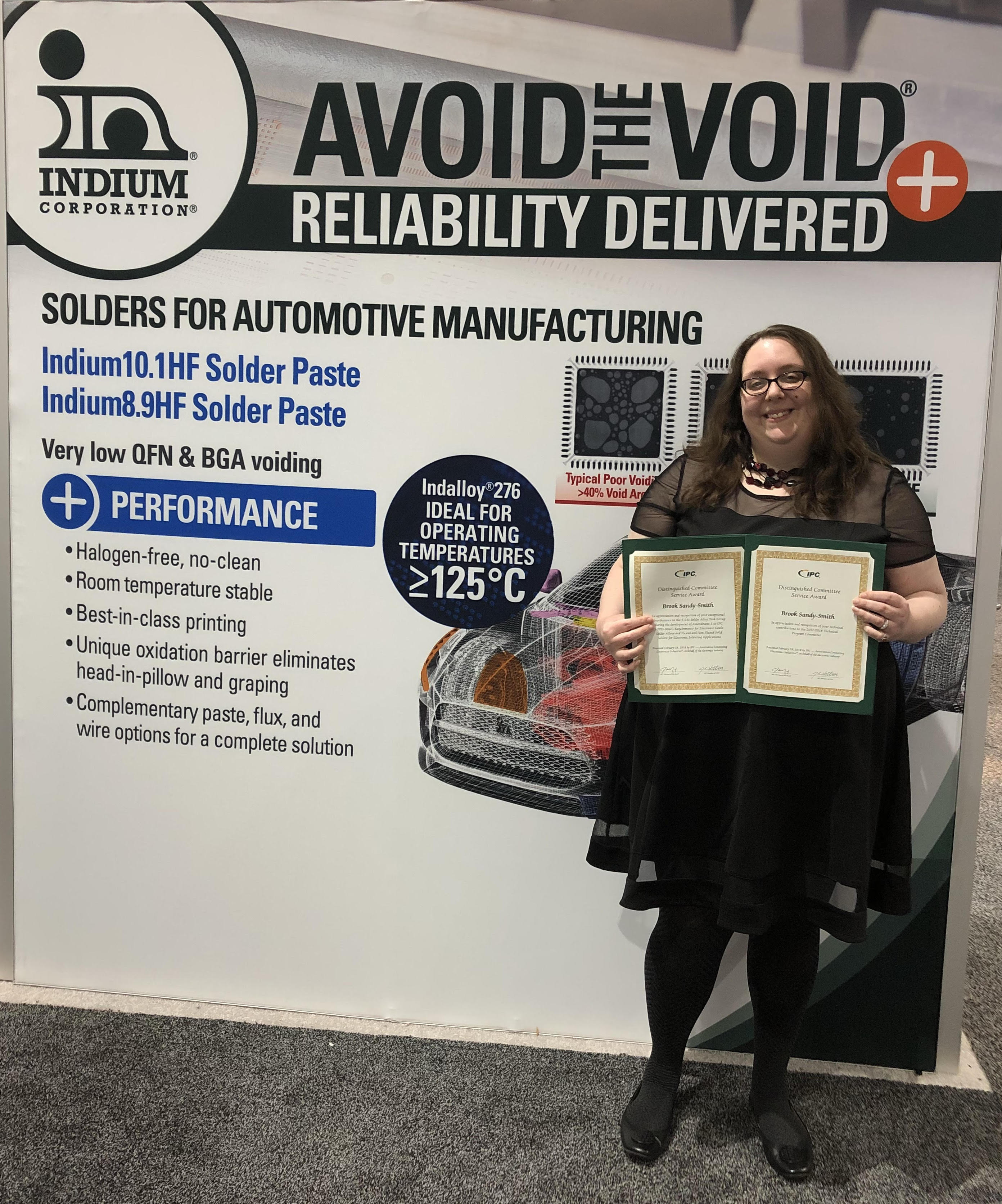 The Distinguished Committee Service Awards recognized Sandy-Smith's contributions to the development of Amendment 1 to IPC J-STD-006C, Requirements for Electronic Grade Solder Alloys and Fluxed and Non-Fluxed Solid Solders for Electronic Soldering Applications, and her contributions to the 2017-2018 Technical Program Committee.
Brook Sandy-Smith is a Technical Support Engineer based at Indium Corporation's Global Headquarters in Clinton, NY and a leader in the industry for technical knowledge and support. Specializing in PCB assembly materials, she works closely with customers to develop custom solutions to optimize their processes. Sandy-Smith is an SMTA Certified Process Engineer and has a passion for developing and implementing standardized test methods. She is an active member of several IPC committees, SMTA programs, and iNEMI projects, and is currently serving as chair of the J-004 committee and Vice President of technical programs for the SMTA Empire chapter. Sandy-Smith graduated from the International Engineering Program at the University of Rhode Island with a degree in Chemical Engineering and German language.
Indium Corporation is a premier materials manufacturer and supplier to the global electronics, semiconductor, thin-film, and thermal management markets. Products include solders and fluxes; brazes; thermal interface materials; sputtering targets; indium, gallium, germanium, and tin metals and inorganic compounds; and NanoFoil®. Founded in 1934, the company has global technical support and factories located in China, Malaysia, Singapore, South Korea, the United Kingdom, and the USA.
For more information about Indium Corporation, visit www.indium.com