Enabling Kepler's Successful Lift-off: Celestica and Kepler Communications
Toronto-based satellite telecommunications provider Kepler Communications has an exciting vision – to "bring the internet to space" via cell phone towers among the cosmos. In 2020, Celestica was brought in to help make this vision a reality.
In an increasingly data dependent world, Kepler aims to provide real-time communication to other satellites, space stations, launch vehicles, habitats and any other space-borne assets. Through its first service offering, Global Data ServiceTM, Kepler has successfully designed nanosatellites, providing connectivity from pole to pole on Earth, and well beyond its atmosphere.
Space is Vast, but There's No Room for Error
When it comes to ground-breaking, in-orbit technologies there is simply no room for error.
While all designers strive to develop highly robust technologies, there is no way to confirm whether a technology will survive or function as intended without testing the product in the use-case environment.
When launching technologies into space while remaining balanced in Earth's gravity, it must be launched at orbital velocity – an astonishing 27,000+ km per hour for an altitude of 242 km. During launch, the object will experience a tremendous amount of force resulting from propulsion as well as the force of air resistance pushing back as the object rips through Earth's atmosphere.
Take for example, NASA's Apollo 6 rocket that roared off the launch pad one sunny morning in 1968. Shortly after lift-off the rocket began to vibrate so violently it was visibly bouncing up and down. This caused critical damage to several of the rocket's engines, causing the engines to shut down early. Disappointingly, the unmanned test vehicle was unable to hold its planned orbital path.
This phenomenon is known as the "pogo" effect and can result from a vehicle's engine causing it to vibrate up and down in response to launch.
Kepler knew that to successfully launch functional telecom satellites into space, these technologies would need to avoid succumbing to the pogo effect. The question was – where on earth could they test their product to ensure it would safely survive its space journey?
Celestica Newmarket – Lab Services Testing the Limits
Fortunately for companies like Kepler, Celestica has been testing the limits of innovation for over 25 years. Our Newmarket, Ontario Electronics Testing Lab provides reliable vibration and shock testing for manufacturers across the aerospace and defense, mobility, consumer, medical, and industrial industries – ensuring critical technologies can survive a wide variety of tough in-use environments.
Located just outside of the Greater Toronto Area (GTA), our world-class Lab is equipped with industry standard mechanical shakers that can vibrate a test product in any desired direction.
Take a satellite for instance – it may experience random vibration of around 9.24 Grms over a frequency range of 20 to 2000 Hz in space. Here on Earth, the shakers at Celestica Newmarket are capable of vibration of 20 Grms over a frequency range of 5 to 2000 Hz – enabling us to subject the product to rigorous test environments to ensure it will survive deployment.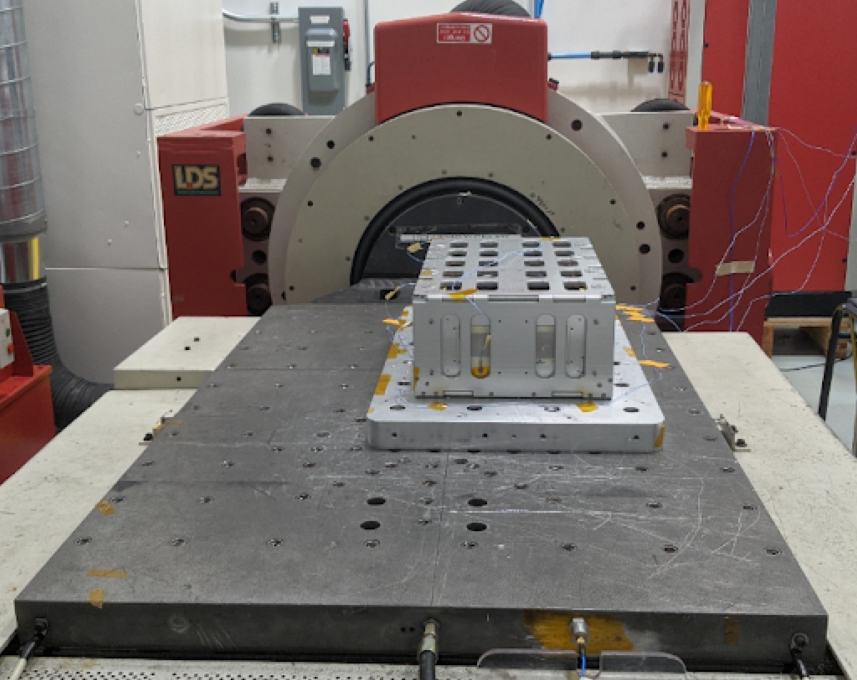 Supporting Kepler's Space-Bound Conquest
Throughout 2020, Celestica served as a test partner for Kepler Communications – providing vibration testing services in support of their space-bound, innovation conquest.
"Vibration testing is a critical step before launch and we required an experienced team to confidently get the job done," said Mitchell Serafin, Technical Project Manager, at Kepler Communications. "Turning to an industry-leader like Celestica that has expertise in engineering and manufacturing high reliability products for performance in all environments ensured our satellites underwent rigorous stress testing which aided our successful launch."
Kepler welcomed two new 6U XL satellites into their fleet – KEPLER-4 and KEPLER-5.  These satellites incorporate both a high-capacity Ku-band communications system and a narrowband payload, for both high-speed data transfers and low-power direct-to-satellite IoT connectivity.  To determine its readiness for a successful lift off and ensure operational reliability, the KEPLER-4 and KEPLER-5 units underwent mechanical vibration testing at Celestica's Newmarket Lab.
The highly skilled engineers in our Newmarket Mechanical Testing Lab took great care and pride in helping Kepler achieve the peace of mind required to launch a product into space. The customer could rest assured that their design had already experienced its worst-case scenario.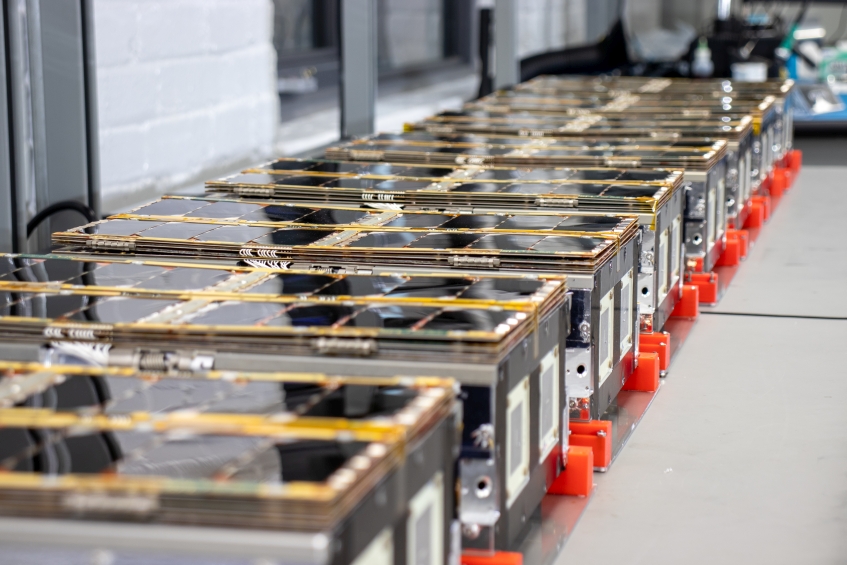 On September 28th, 2020 using a Soyuz rocket, the KEPLER-4 and KEPLER-5 were launched at approximately 7:20 AM from Mirny, Arkhangelsk Oblast, Russia. Now fully operational in their celestial home, the new satellites have greatly increased the capacity of Kepler's Global Data Service offering – paving the way for early customer trials for Kepler's EverywhereIoT TM service.
To learn more about our Newmarket Electronics Test Lab capabilities or request a quote email lab-services-cls@celestica.com