EMSNOW Technology Review
From time to time, we like to get business updates from our sponsor companies. Technology companies are making announcements all the time and sometimes it's easy to miss them as they fly by in our news section. Here's what a few of our sponsor companies have been up to recently:
IDENTCO Introduces PCB Labels with Unique Material Composition Protecting Against Chemical Washes, High Temperatures
New TT413 labeling series offers vital identification and traceability for high-leverage printed circuit board components.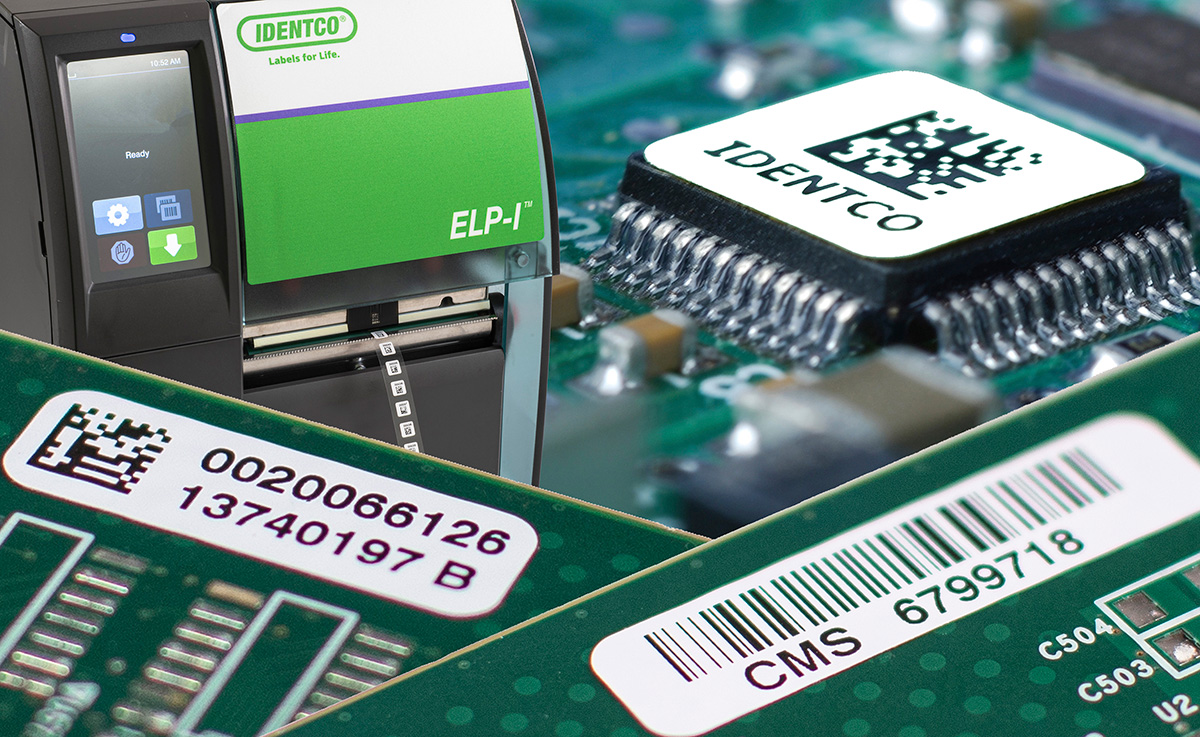 IDENTCO – a manufacturer of high-performance labeling solutions for the power equipment, electronics, transportation, and general industrial sector – has introduced a robust series of labels for printed circuit board (PCB) applications that features a substrate developed exclusively for IDENTCO by a prominent industry materials and coating supplier. Providing vital identification and traceability for high-leverage PCB components, the new TT413 labeling series easily withstands prolonged, repeated exposure to the chemicals and high temperatures typical to post-production washing processes.
IDENTCO's TT413 portfolio is designed for on-demand thermal transfer printing of variable information – a plus for electronics companies incorporating serialization and/or anti-counterfeiting coding into their production practices. A 2.4 mil gloss white polyimide provides exemplary, ultra-durable resistance against smudges, solvent, heat, and abrasion, and serves as a receptive surface for a variety of thermal transfer ribbons from IDENTCO.
TT413 labels feature a 2.0 mil ultra-aggressive permanent acrylic adhesive that, like the product's printable materials, offers excellent resistance to harsh chemicals and high temperatures. Its adhesive power is equally impressive, with tests showing a 20-minute dwell with a peel adhesion strength of 40oz/in or higher for both stainless steel and PC board. At 24 hours, the labels boast dwell strengths of 43oz/in for epoxy, and an especially strong 55oz/in for stainless steel.
The new labeling solutions are ideally suited to a wide array of electronics components manufacturing environments, including box builds, internal and external vehicle parts (such as in-cabin infotainment systems and outside sensors), and various other computer unit and PCB assembly settings.
"Featuring a substrate developed specifically for IDENTCO, the new TT413 series is designed to meet the type of demanding durable labeling requirements inherent to various PCB applications and electronics components production," said Victor Holbein, Chief Operating Officer for IDENTCO. "Its special polyimide allows it to provide exceptional levels of durability and functionality at an exceedingly cost-effective price point."
ZESTRON Shares ATRON® DC Environmentally Friendly Cleaning Case Study
Coating residues often remain on pallets, fixtures, and tools during the conformal coating process. To ensure a reliable coating process, coating residues necessitate regular cleaning but often require aggressive and harmful stripping chemicals that are difficult to remove, requiring hours of soaking and manual chiseling.
ZESTRON's environmentally friendly and water-based product, ATRON® DC, makes maintenance cleaning quick, easy, and efficient. ATRON® DC is suitable for all maintenance cleaning equipment, such as ultrasonic or spray-in-air, and effective on the most popular types of coating; acrylic, urethane, epoxy, silicone, and arathane.
Download our case study for additional information on how ATRON® DC can significantly reduce your maintenance process time and eliminate the need for manual scrapping, all while meeting ESG initiatives.
Indium's Brian O'Leary Is On The Road Helping Engineers With e-Mobility Solder Reliability Challenges
Brian O'Leary continues to be busy providing thought leadership on the topic of e-Mobility through various channels, especially his EV InSIDER Series and by moderating the IPC Road to Reliability Series. He has appeared on Eric Miscoll's Up Close series several times and the industry values his determination and expertise.
Over three million electric vehicles are on the street with Indium Corporation's Rel-ion™ suite of products.
The latest trends in the automotive electronics industry have led to increasing numbers of components for automobile innovations and new features. The continuing miniaturization of electronics to accommodate all the components must be more reliable than ever before. Components need to stand up to temperature swings, mechanical shock, vibration, high-power voltage, humidity, extreme environmental conditions, and higher density circuit boards, to name a few.
The challenge facing the industry is to reduce or avoid electrical component failure, thus increasing consumer safety and reducing costs related to faulty electronics. Failures can be caused by a number of solder defects including voiding, head-in-pillow, insufficients, slump, non-wet opens, dendritic growth, cracking, and warpage.
Indium Corporation offers a suite of proven materials that are the solutions to overcoming these reliability challenges.
Find out more about Indium Corporation's Rel-ion™ suite of products and solutions for the electric vehicles market at https://www.indium.com/corporate/markets/automotive/emobility/
White Horse Laboratories Expands Facility to Boost Services and Local Supply Chains
White Horse Laboratories has announced a significant expansion of its Hong Kong facility, emphasizing the enhancement of test capabilities to include AS6081 methods A1-A6, and drawing attention to the company's comprehensive logistics services. By reducing the need to transfer samples to its Shenzhen facility for advanced methods, the expansion will eliminate the lead-time of the importation process and better address clients' needs.
Mark Rinehart, the Founder and Managing Director of White Horse Laboratories, said, "This expansion showcases our dedication to delivering exceptional service and solutions customized to the evolving manufacturing and supply chain conditions our customers' face, while maintaining the loft standards those customers' expect and rely upon."
Founded in 2004, White Horse Laboratories is a trusted partner in protecting the integrity of global supply chains, providing a suite of services designed to safeguard products from counterfeit electronic components and other threats. The expanded facility equips the company to better serve clients and highlights its commitment to offering a comprehensive range of services, including programming, packaging, and logistics support.
Koh Young Hosts 12-Part Webinar Titled "Smarter Manufacturing Enabled with Inspection Data, with expert Ivan Aduna"
A smart factory is created from many parts, and inspection systems will play a critical role for process optimization in the next industrial revolution. Accurate, reliable 3D measurement-based data is essential, and a key element for a true smart factory. In this 12-part webinar series, viewers will learn about secure data collection, AI-powered solutions to manage and analyze data, and how to leverage the IPC CFX-QPL to succeed in the transformation to Industry 4.0. Managing process data from connected SPI and AOI systems will help realize the Fourth Industrial Revolution faster. Perhaps we can even discover a path to the autonomous manufacturing future some are calling Industry 5.0.