Celestica Sponsors Sustainable Mobility Project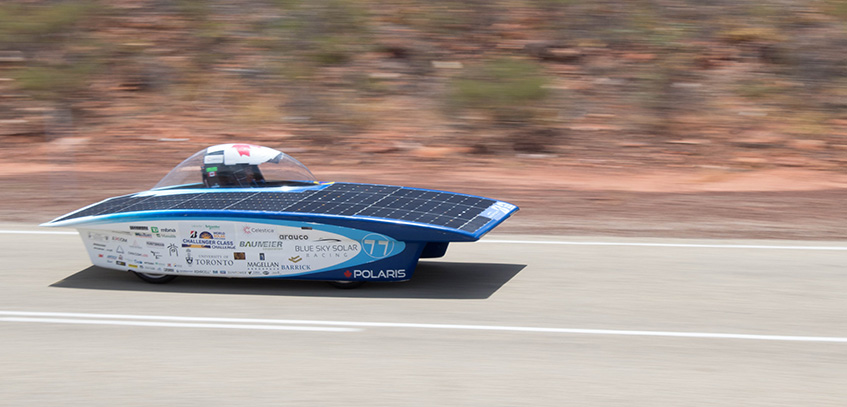 Last year, Celestica sponsored a multi-disciplinary team of students from the University of Toronto in Canada who are gaining first-hand knowledge and experience in the field of sustainable mobility. Blue Sky Solar Racing is challenging conventional ideas on transportation through the design and construction of innovative solar-powered vehicles leveraging cutting-edge technologies such as carbon fiber composites, silicon photovoltaics and polycarbonate thermoforming techniques.
Over a period of two years, a core group of 30 undergraduate students designed and built the team's ninth-generation solar car, Polaris. It boasts an asymmetrical catamaran design and is the team's fastest, lightest and most efficient vehicle to date.
The culmination of the students' hard work was put to the test at the 2017 World Solar Challenge, a worldwide competition in Australia where teams raced their solar cars for 3,000km over a seven-day period. All the power for the vehicles came from the sun or was recovered from the kinetic energy of the cars, making them arguably the most efficient electric vehicles in the world.
Blue Sky Solar Racing was the only team to represent Canada on the world stage at the 2017 race; marking the team's sixth appearance in the World Solar Challenge. Coming into the race, the team was anticipating tough competition. What they weren't expecting was having to race in the worst storm the region had seen in over 20 years. After a rigorous seven days, Polaris was one of only 12 vehicles to finish the race out of the original 40. The team also received the 2017 Safety Award for outstanding safety practices as a result of their performance throughout the competition.
"The perseverance and innovation displayed by the students of Blue Sky Solar Racing are what makes the future of sustainable mobility so bright. At Celestica, we will continue to think bigger and reach further with our customers to do our part in shaping a smarter, more sustainable and connected world."